Domonique Wyatt OG / OC
Oklahoma Panhandle State University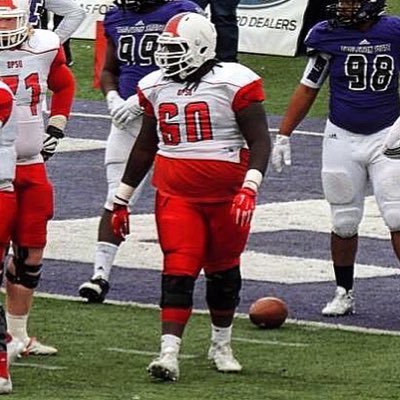 Q) what are your true measurements , I hate using team sites because they are often unreliable
A) 6'2 329lbs
Q) What major programs recruited you coming out of High School ?
A) Some people may not know I only played 1 year of High School Football which was my senior year.
I did pretty good as was decently recruited. I was offered a scholarship from 2 D1 programs; Arkansas State &
University of Arkansas at Pine Bluff. I also was being offered a preferred walk on spot by the Razorbacks, University of Arkansas.
I was also being recruited by ULM, Louisiana Tech, Southeast Missouri and UCA.
I also had a bunch of D2 offers and talked with some Juco schools as well.
Coming out of high school and only playing 1 year of football
I didn't have the confidence and trust in my abilities to play major D1 football and really didn't know what a Juco was
so I went with D2 Oklahoma Panhandle State University. I chose them because of the relationship that I had built with
the offensive line coach at the time and the opportunity to play as a true freshman.
Q) Who do you best compare / model your game after and why ?
A) I like to try and model my game after Chance Warmack. I like him a lot because he plays the same position and we are relatively the same size.
We are both very athletic and while he was in college he was asked to pull and kick out a lot just as I was.
Q) what do you feel would be your best pos on the Line at the next level ?
A) I feel that I can be equally good at Guard or Center at the next level and going forward.
I feel more comfortable at guard because that what I mostly played in college and I think it fits me better athletically,
but that's not to say I'm not comfortable at Center either. I came out of high school as a center and can play that position as good as guard.
Q) Who would you consider the toughest man to block of all the men you have faced in your collegiate career ?
A) Jordan Tripp from University of Montana. He was just a hard player and tried to run through blocks.
Another player that I thought was real good but never got a chance to really block him because he played DE was Clay Callicutt from Angelo State.
Q) What do you feel is your best attribute as a team mate ( not as a player ) ?
A) I think one as my best attributes as a teammate is my enthusiasm. I love this game and have a passion for it.
You can literally ask any teammate that I have ever played with and they will tell you how much fun I have playing this game.
I'm celebrating whenever we score like I'm the one running the ball in the end zone. I'm always watching the defense play and
celebrating with them when they make big plays. My enthusiasm always keeps me positive. Sometimes we have turnovers or
we aren't moving the ball how we should be and I'm just making sure everybody keeping their head up and not getting down.

Q) What do you feel is your biggest attribute as a player ( can be Physical / Mental aspect ) ?
A) I would have to say my mental ability and film watching. Most people would be surprised by that answer because
I'm such s big guy they just expect me to say something physical, but in the NFL everybody is big, fast, and strong.
What separates me from other OL is that a lot of the time I'm already know what a defensive lineman is going to do.
I've watched film on him. I know he bull rushes, or that he's a push pull guy, or that he always jab step and rip on his 3rd step out his stance.
The game is 90% mental and I've really focused on getting better on that throughout my time playing.
Q) If by some chance you went undrafted and you could pick your destination to some degree where do you see yourself fitting best at the next level ?
A) Anywhere in the NFL would be a blessing to get an opportunity to play. If I did have a chance to pick somewhere to play it would either be
New England or Carolina. New England because you have arguably the best quarterback to ever play the game in Tom Brady on your team &
you know with him you always have a chance to win. Carolina because of Cam Newton. The energy that he has and the way his play makes
his team better is crazy to me. He's a winner and one of the most competitive players I have ever seen. I wouldn't mind blocking for
him and getting a chance to dab in the end zone with him.
Q) Who do you consider the most important role model in your life and why ?
A) My pops Ken Parks is my role model. No matter what he always did what could to provide for me, my brother, and my mom.
There has been times when we did struggle and we couldn't always get what we wanted or needed but I always knew he was
working to get us those things and make sure we were good. He taught me how to be a man and what it's like to provide
for a family and be selflessness and I know one day when I have a family of my own I'll know what to do because of him.
Q) What would be more rewarding Drafted higher than expected to a team you do not like or being undrafted with a chance to go to your favorite team ?
A) Either way would be more rewarding to me. Everybody doesn't get a chance to play in the NFL and especially not
coming from a small school. With that being said I would be glad and it would be more then rewarding for a team to
give me a chance to play and help their team out in anyway, regardless of what team it is. I just need the opportunity to
prove that I'm a player that teams want.
Q) If you could choose a mark to leave on the world what would that mark be ?
A) I just want people to look at me and say; "man, what a person." At the end of the day I don't know The Lord has in store for me.
All I can do is pray every day that he leads me in the right direction and I can do what's in his will. Whether that's playing football,
changing the world someway, or just working a 9 to 5. I know I can do all things thru Christ which strengthens me, and that's just how
I'm living my life right now.
Q) How much time do you dedicate to film study on the average game week and how much in the weight room ?
A) I spend a lot of time watching film. The eye in the sky doesn't lie. There isn't a move that a defensive player can use on me that
I haven't seen or already expected him to use. You don't see future lawyers not studying for the Bar exam. The same goes for football.
Every Saturday is a test and I watch film and study for that test as much as I can. I'm also in the weight room for a good amount of time.
The season is rough and wears down your body so you have to stay working out and keeping the muscles and everything right.
Q If you could chose , would you go to a team stacked and ready to win knowing you would have to sit a year or two or go to a team in dire need with a chance to start week 1 ?
A) Either way would be a privilege and blessing. I would love to start week 1 as a rookie just as much as the next man but I don't
see anything wrong with going to a good team and sitting behind a veteran for a year or two and learning from him.

Q) You look supremely strong on tape what kind of numbers do you put up on the bench press ?
A) Thanks you. I am a decent bench press guy. I do 225 between 22 and 24 reps right now but I'm working on that to have it between 30 and 35
reps by my pro day. I'm mostly a lower body guy and can squat 600lbs.
Q) given a chance to describe yourself as a player to someone who never seen you play what would you say ?
A) I would tell that person that I'm an athletic and mobile interior OL. I can pull, kick out, get outside the pocket,
and block in the open field in screens very good but I can also base block and drive a DL off the ball. I would also tell
them that I'm a player that takes pride in blocking. Even though there are really no stats or praise from the common football watching person,
I play like there is.
Q) Greatest moment on the field of play ?
A) the greatest moment in the field was playing at University of Montana. I like that movement because we played a great D1 team,
ranked #9 at the time, in front of a sold out crowd of about 30,000 people. The atmosphere was crazy and it was loud. We didn't win the
game but I had a good game against some good players who made it to the NFL. Another moment I really liked was blocking for my brother
Chris McClendon. A lot of people don't know we grew up together, from the same city, same little league team and everything.
He ended up going to a different high school in the same conference as me but we went to the same college for 5 years.
Blocking for him our senior season and in our last game together him rushing for over 200 yards and over 1200 for the season was great.
Q) Greatest moment in your lifetime off the field ?
A) Signing Day. Only 6% of players get a chance to play college football and I was one of them.
If I never signed a scholarship I might not have been in that 6% and having this interview today. It's a blessing.
Q) do you currently have representation and if so what agency
A) Yes. I have signed with Gary Glick out of Dallas and the agency is SSI.
Q) If you could have just 5 min. with a GM to tell him why he should draft you what do you tell him ?
A) I would tell the GM that I am a great player that he wants on his team. I am going to work hard,
very coachable, and going to give everything I got on that field. I'm a leader and a captain on and off the field.
I would also tell him that I've only been playing football for 5 years now at a small division 2 school.
This is raw talent and that I'm nowhere near my ceiling of his good I can be. I'm going to do everything in my power to be one
of the best small school stories in the NFL and do what I can to help this team. I would also tell that GM wouldn't it be great
to say I'm the GM that saw the diamond in the right and took a chance in Domonique Wyatt
That is the end of the question portion of this interview , I want to thank you for your time and efforts with me
during this process and wish you the best of luck in the 2016 NFL draft keep in touch my friend
you can follow Domonique Wyatt on twitter @Aye_Poc
you can follow me on twitter @Dwinsgames 
please tweet and retweet for increased visibility
take a moment and view this mans game hereSee Dom play here