Kalan Reed CB Southern Miss
5'11 -192
4.38-40 - 41.5 vertical both recorded at his pro day
Southern Miss record with 19 passes defended in 2015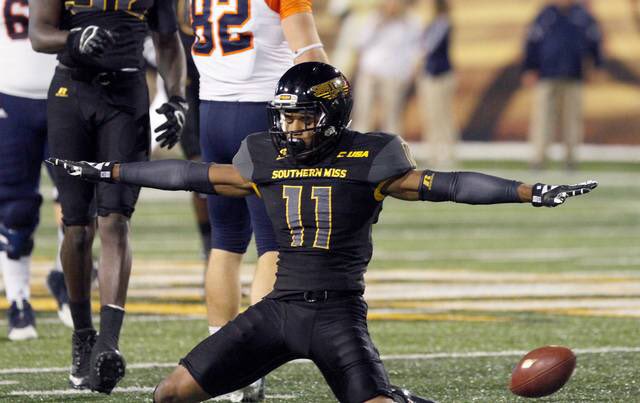 Scouts raved about his explosiveness and overall physical ability but not many in the draft world are giving him much due respect .
I believe this is one of many cases where there is a disconnect in what teams are seeing and what the so called " experts" are not .
Today we are going to try and bridge the gap a little bit from the two perspectives and let you learn a little more about the prospect.
Here is what I have learned about the man prior to this interview .

He has the speed and quick twitch you look for
He is a willing tackler and will stick his head in there to aid you in run defense
He is big enough to play outside , size may not be ideal but it's close enough and when you couple that with his vertical he is plenty long enough
He will challenge the catch point of the ball in the air and not just cover the man
He has good change of direction and looses very little speed in doing so showing good hip fluidity
19 pass defensed his senior year leading the nation proves he is where he needs to be and is an aware player who's head is in the game
Has some ball skills 4 picks his senior year 2 of which he was able to return for scores
Now that we got some of the basic background of the player out of the way lets dig a little deeper and get some answers from Kalan Reed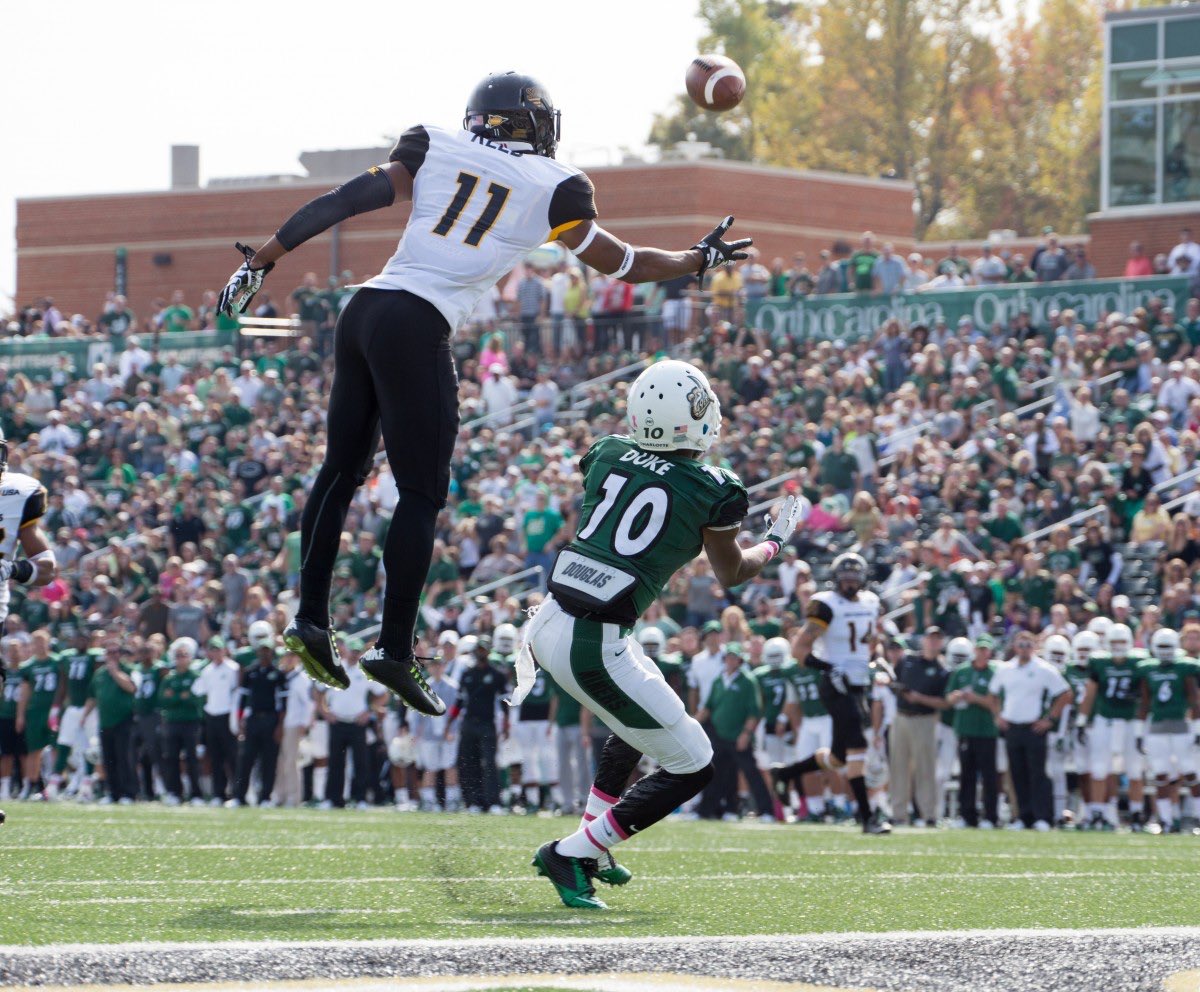 Hello Kalan before we get started I would like to thank you for this opportunity for an interview and the time you will devote to this process .
Q) What Schools recruited you out of High School and what made you choose USM ?

A) South Alabama, Memphis, Samford, Middle Tennessee State, Ole Miss, Arkansas State, and a couple of more.
Q) What term would best describe you " Gym Rat " or "Film Junky" and explain please

A) Film Junky because I spend countless hours in the film room breaking down film and trying to find any advantage I can for the game.


Q) Who was the most difficult player you have been asked to cover and what is your reasoning behind your answer

A) Amari Cooper because he was a great route runner and overall WR.
Q) Following up on the prior question what was the results of that assignment ( catches /yards/scores against you ) ?

A) He caught two passes on me and I broke up two passes in the end zone. 0 scores against me.

Q) What game would you consider your best game to date ( details please )

A)Probably Texas State this year. I had 10 tackles, 1 TFL, 2 pass breakups, and also a game sealing goal line tackle on 4th down.
Q) I am a fan and watch a lot of film , when doing so I use comparisons to other players that have succeeded
or failed at the next level , with you its tough I see flashes of many but can always
tell when its you making a play on the ball the athleticism jumps off the screen , who do you model your game after or think you best compare
A) I watch film on multiple players such as Darrelle Revis, Brent Grimes, and Chris Harris Jr, and try to take parts of their game and add it to my own.
Q) At what age did you come to realize playing football could be your lifes work ?

A) Its always been a dream of mine to play in the NFL, but senior year in high school after signing I thought that if I worked hard through college I could make my dreams come true.
Q) Many in the draft world seem to be over looking you to some degree does that place a large chip on your shoulder ?
A) A little bit because I feel as if I had a very productive year and have great film, that gets overlooked at times.

Q) Outside of football the one person who had the biggest positive effect on your life and why /how ?
A) My parents because they stayed on me to make the right decisions in life.
Q)Where do you see yourself after football ?
A) After football I plan to go to law school and study to be a sports attorney.
Q) How much of your game is do to intensive film study vs athletic god given ability ?
A) I feel like its a tie because I am athletic enough to play with anybody on the field, and the extensive amount of film that I watch for games allows me to play at an even higher level
Q) If you could choose a mark to leave on the world what would that mark be ?
A) To pursue whatever that you are passionate about
Q) Where have you been training and what are your focal points in training at this juncture ?
A) I was training at Bommorito's in Davie, Florida for my pro day. There the main focus was speed and explosiveness, but now that I am done with pro day I am now training to get back in football shape and also positional drills.
Q) What do you feel is your biggest attribute as a player ( can be Physical / Mental aspect ) ?
A)The mental aspect of the game because on most plays that I made this year I already knew the play just from the alignment of the WR's
Q) What do you feel is your best attribute as a team mate ( not as a player )
A) Just being able to get along with everybody no matter what their personality is.
Q) What are your training habits during the normal game week ?
A) Watch film for hours everyday and in practice pay close attention to the little things and the new game plan that gets put in, and also taking care of my body throughout the week.
Q) What would be more rewarding Drafted higher than expected to a team you do not like or
being a late round pick to your favorite team ?
A) Being drafted higher than expected for sure, there are not any teams that I don't like.
Q) Would you prefer to be drafted to a team that is deep and you may have to sit a year or two
or a team rebuilding that you have a chance to start as a rookie ?
A) It does not matter to me, whatever team drafts me I am willing to do whatever is asked of me to help the team, and always compete.
Q) Given a chance to describe yourself as a player to someone who never seen you play what would you say ?
A) Smart, athletic player that makes a lot of plays on the ball.
Q) If you could have just 5 min. with a GM to tell him why he should draft you what do you tell him ?
A) I am a CB who can contribute to the team in many ways. I have great study habits, always work hard, and love competition.
Thank you for the interview opportunity Kalan and taking the time to let my readers know Just who Kalan Reed is on and off the field .
I will wrap it up with the questions here .I would like to wish you the best of luck in the 2016 NFL draft .
I have a feeling some team is going to get themselves quite a competitor and person , I hope it is the Pittsburgh Steelers !
You can Follow me on Twitter @Dwinsgames
You can Follow Kalan Reed on twitter @kalan_reed11
see his game tape here ..
[youtube]https://www.youtube.com/watch?v=143le4lA96I[/youtube]