Jonte TrainWreck Berry OG-OT
Northwestern Oklahoma University
6'5"-320 pounds of Nasty
Many will ask who is this kid and where is Northwestern Oklahoma University ..
after reading this description and interview if you still question why I took the time to do this
interview view the tape attached at the bottom and all your questions should then be answered !
Talent can be found at every level of college football and sometimes you will be amazed at just how much talent is actually out there you have never heard of .
Today will be one of those days !
This young man is very talented and plays with a mean streak in him and for me that is an important aspect to your game when
you're playing in the trenches because it can get ugly and this man is built for the task .
You can teach technique , you can teach scheme but you can not teach physicality or desire and he has the latter two in spades !
Many think " nasty" is going to get you thug mentality but that is not the case here ,
we have a physical beast on the field and a gentle giant off the field a man of God who teaches others how to take the right path in life.
I would like to introduce you to one the College Footballs best kept secrets in
my series of NFL draft prospects 2016 edition interviews Ladies and Gentlemen
without further ado lets get to talking with Jonte Berry .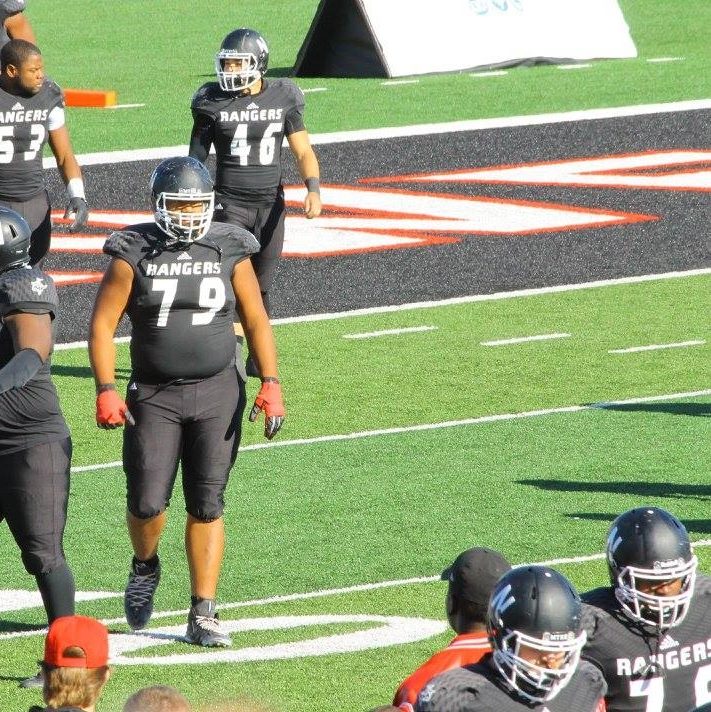 You first caught my eye on a video you sent me on twitter you where lined up at LT
first thing I noticed was wow who is this man among boys ?
Your drive blocking the man in front of you was a sight to behold and I just had to learn more !
Since that day we have spoken several times and I have watched every piece of tape I could find
and have become impressed with the man and the player that you are .
Because of all that I am convinced you will succeed at the next level and its just a matter of catching a teams eye.
Lets get to work and start letting the world find out what I have already learned .
Q) You have supreme confidence in your skills and abilities ( and rightfully so ) What programs recruited you ?
A) I went to Alief Taylor High School in Houston,Texas same as NFL greats (Materllus and Micheal Bennett). I was one of top tackles coming out of class of 2010 I had Ole Miss, Florida, Texas A&M, and Oklahoma State all looking at me coming out of high school unfortunately. My grades were bad so had to go Kilgore Junior College.
Q) How did you end up at Northwestern Oklahoma University ?
A) I'll never forget I had just came back from Clark Atlanta University in Atlanta Georgia I was playing football there I had recently decided to transfer because the coach staff was just fired. I was in tough spot I came home I was working on trying to transfer to Texas A&M I came short of the requirements to walk on. It was the Spring of 2012 this was the first time in life where I didn't have football nor was a part of team. I was depressed I remember watching the Hard Knocks: Dolphin Edition just praying to God that I would get another opportunity to play football. My head coach at Kilgore Coach J.J. Eckert told me about this school in Oklahoma looking for tackles and the rest was history.
Q) You look supremely strong on tape what kind of numbers do you put up on the bench press ?
A) I appreciate the compliment I bench about 355 lbs I am mostly a lower body guy I squat 605.
Q) You have pretty good movement from the film I have seen and not all teams do it often but
do you feel you are you quick enough to pull from the guard position ?
A). Yes sir I do I love pulling I think that something that I have that makes me stand out is my quickness to pull getting the second level and finishing the play.
Q) Who would you consider the toughest man to block of all the men you
have faced in your collegiate career ?
A) Honestly have faced some pretty good talent whether it was Junior College level facing players who were going to play D1 ball or the level of play that I finished my collegiate career. I would have to say my own teammate Joby St.Fleur(6'5 245 DE) it not to many guys in this conference nor in D2 that has the attributes nor motor or physicality that he brings to the game I was lucky to have someone like him to go against every day to keep me on point with my game.
Q) What do you feel is your best attribute as a team mate ( not as a player ) ?
A) I would to say being supportive of my teammates whether its on or off the field. In order for you to have cohesion on the field with your teammates I call them" my brothers". You have to take the time to get know each person because everybody has a story. I have never been the teammate to belittle others whether because they was not talented or because they was a freshman. I feel that each persons make up makes football such a great sport it brings people from all different backgrounds in order to achieve the same goal which is which a championship.
Q) What do you feel is your biggest attribute as a player ( can be Physical / Mental aspect ) ?
A) Being "Coachable" I feel is my biggest attribute I feel that in order for you to the best on the field you have to both respect the authority figures over you as well take the constructive criticism they are giving you. To apply to make the most of your opportunities to be successful on and off the field.
Q) Growing up who did you mold your game after , and who where your favorite player's ?
A) One of favorite players when I was younger I was a huge fan of Russell Okung from the Seahawks. I followed throughout his collegiate and professional career. Since I have made the transition to guard this year I tend to watch of a lot Lael Collins and Zach Martin for the Cowboys I see a lot of attributes that I have learned just by watching them play.
Q) If you went undrafted and you could pick your destination to some degree where
do you see yourself fitting best at the next level ?
A) Truthfully just having the privilege to play NFL is honor let alone pick the team that best fit my skill set. I would have to say the Rams blocking for a running back like Todd Gurley makes your job who a lot easy because once you take care of the second level he take care of the rest.
Q) Do you feel you are best suited in a Zone blocking scheme or in a power scheme ?
A) Power Scheme I love pulling picking up the linebacker whether I'm pulling or double teaming with tackle I'm old school when comes to that.
Q) Who do you consider the most important role model in your life and why ?
A) When you look up the definition of a man it says: A male human endowed with qualities, such as strength, considered characteristic of manhood. I feel this best describe my uncle Steve Amaro he taught me how to be a honest hard working man. That you can't take shortcuts in life because at the end of the day your cheating yourself. He has a heart of gold would give you the shirt off his back. He always helping others and giving back to the community he spends more time doing for others than he do for his own family. He the closet thing I have to my father in my life since he passed last year due to Prostate Cancer.
Q) given a chance to describe yourself as a player to someone who never seen you play what would you say ?
A) Humble Hungry and Nasty because being humble is what got me this far in career path playing football.Hungry because I have the desire to be the best on the field as well as respected by my peers that I'm playing against to say they faced a quality opponent who plays till the whistle. Most important being nasty to straight demolish whoever he sees in his sight.
Q) The leap to the NFL will be quite large , it is for every prospect but even more so for small schoolkids , what in your opinion will be your most difficult aspect in the transition the complexity of the NFL playbooks or the leap in talent level and why?
A) I would have to say the leap of talent the reason behind that you are now playing against the best of best. I'm not the big fish in the small pond anymore I'm in the ocean with the sharks and piranhas. I'm not one of those guys who wants a one done career and just live in the moment because in going against guys like Geno Atkins, or Aaron Donald every day. At the end of day this job interview its my duty to play my hardest dedicate my time to my playbook in order to get on the field make to someones 53 man roster and being a contributing factor in help the team win games.
Q) On some of the plays I watched you attacked the LOS like a DT from the offensive side of the ball very aggressive do you have any D Line in your background ?
A) A lil if you count middle school played defensive tackle then but that was the last time in my career I played that.
Q) What does your training regime consist of since the season is over and the draft is now on its way ?
A) My training regime is a straight grind I find the time to go weight room in between my breaks in classes to get a full body workout to stay in shape and to get ready for my Pro Day. I get up early in the mornings with it running hills or doing agility to help better my change of direction I'm taking every detailed step in order me to perform at my best.
Q) If you could choose a mark to leave on the world what would that mark be ?
A) That he spread God's teachings through his own faith throughout the course of his life showing that faith as tiny as mustard seed can move mountains that he was great friend, motivator, teacher, and leader that wanted to help others.
Q) What has been your primary area of focus in your training for your pro day and what are you looking to improve upon ?
A) My primary focus has been the agility drills I want to be able to show scouts my quickness also I'm looking to improve my reps of 225 my goal is at least 30 I can hit bout 20 to 22 times right now but I have plenty of time to get up by then.
Q) Have any scouts been in contact with you or shown interest at this point ?
A)Yes they have the Rams and the Panthers both during the course of the season.
Q) I see you are also a very spiritual man , how handy is that in locker room situations ?
A ) Its very handy especially before games I have a pre-game ritual that have been doing since I started playing college football I call my oldest brother and wife before the game to pray for after that I read a scripture and pray myself as well . I been doing all the way up to this point and that something that I plan on keep doing thorough out the rest of my career.
Q) If you could have just 5 min. with a GM to tell him why he should draft you what do you tell him ?
A) I would tell him I'm a raw talent hasn't been quite developed but I'm worth the investment. I am looking forward to putting forth the effort to be a player that my organization can count on and off the field. You have someone who is hungry to get on the field that is not content until he makes the roster and proves himself to the Front Office, the coaching staff and his peers that he is force to be reckoned with that he is someone that can be counted on in clutch situations.
Thank you again for taking the time for this interview with me for Draftsteel.com and best of luck in this upcoming Draft .
You can Follow Jonte TrainWreck Berry on twitter @MoCityJBeezo
You can follow me on [email protected]
Please tweet and retweet for expanded exposure
Be sure to watch the tape below to see just how dominant this man is
[youtube]
[/youtube]